Emerald Hill conservation terraced house sells for $10.3 mil, or $5,896 psf
Emerald Hill conservation terraced house sells for $10.3 mil, or $5,896 psf
https://www.edgeprop.sg
By Valerie Kor / EdgeProp Singapore | February 19, 2021 6:00 AM SGT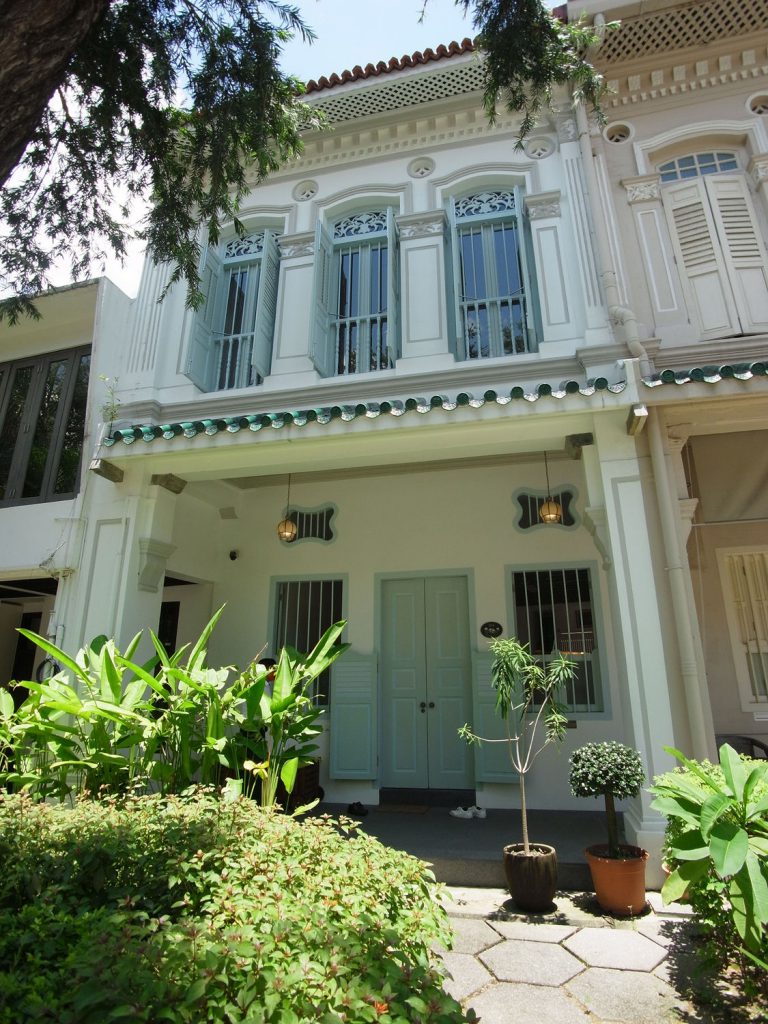 The terraced house is restored and well-renovated, and had been on the market for six weeks before it was purchased by a local family (Photo: Isabel Redrup Agency)
SINGAPORE (EDGEPROP) – A conservation terraced house on a 1,747 sq ft plot of freehold land along Emerald Hill Road was sold for a record price of $5,896 psf (land area), or $10.3 million on Jan 18.
The record was previously held by a 1,508 sq ft terraced house on Emerald Hill Road, which was sold for $8 million ($5,305 psf). "In the past two years, transactions here have been between $3,900 and $4,100 psf on the land area," says Susan Prior, managing director of Isabel Redrup Agency, the exclusive marketing agent for the property.
A double-storey terraced house with an attic, the property has five bedrooms, of which two are en suite. It has a double-volume ceiling height at the dining area on the first floor while the family area is on the second floor. On the roof terrace, there is a small pool and a shaded pavilion. The total gross floor area measures around 5,000 sq ft. Thus, the price tag of $10.3 million translates to $2,060 psf on floor area.
The exterior of the house is in the Chinese baroque architectural style, which features intricate wood carvings, ceramic tilework and ornate doorways. This is typical of the terraced houses at the Emerald Hill conservation area, which were built at the turn of the 20th century by wealthy Chinese and Straits-Chinese merchants. They number at around 150. The area was declared a conservation area by the URA in 1985 and gazetted four years later.
The property had been on the market for six weeks before it was purchased by a local family, says Prior. The seller had purchased it previously in September 2016 for $6.28 million ($3,595 psf), according to the URA caveat lodged.
The Emerald Hill conservation area is located off Orchard Road and Cairnhill Road in prime District 9. It is a 10-minute walk from Somerset MRT Station and the surrounding shopping malls like 313 Somerset and The Centrepoint.
---
Six shophouses at Joo Chiat Place sold for more than S$2m each
Six shophouses at Joo Chiat Place sold for more than S$2m each
https://www.businesstimes.com.sg
WED, FEB 03, 2021 – 3:56 PM
YONG HUI TING " yhuiting@sph.com.sg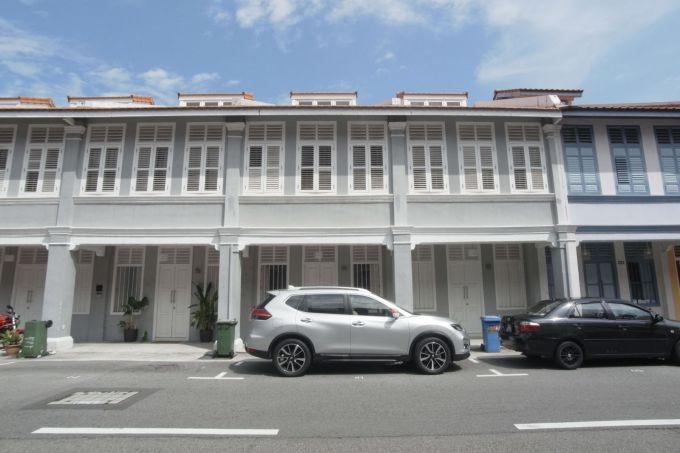 Six shophouses at Joo Chiat Place has been sold for prices ranging from S$2.65 million to S$2.72 million. PHOTO: ISABEL REDRUP AGENCY
SIX shophouses at Joo Chiat Place have been sold for prices ranging from S$2.65 million to S$2.72 million.
Four out of six of the two-bedroom units were sold in the past eight months, bought mainly by young Singaporean couples, according to marketing agent Isabel Redrup Agency, which closed all six deals.
The freehold residentials, which are 2.5-storeys high, occupy 900 square feet (sq ft) of
The freehold residentials, which are 2.5-storeys high, occupy 900 square feet (sq ft) of land area and 2,100 sq ft of built-up area. This brings the units, which were sold after refurnishing works by Ong and Ong Architects, to an average of about S$2,800 per square foot (psf).(see Amendment note)
"We are finding a huge market for redone conservation houses," said Susan Prior, managing director of Isabel Redrup Agency, who brokered the deals.
"Unique features such as floating spiral staircases, ample bedrooms and upmarket design spurred the demand," she added.
According to figures from the Urban Redevelopment Authority, shophouses along Telok Kurau Road, also part of District 15, were sold for about S$1,900 psf in the past two years.
"We are finding that demand exceeds supply for our heritage properties. A recent spate of residential shophouse sales is seeing each sale selling at a higher price than the last," said Ms Prior.
According to real estate services and investment management company Colliers International, 18 shophouses – each over S$10 million and worth a total of S$288 million – transacted in Q4 of 2020 alone.
This marks the best quarterly showing since Q1 2018's S$401.7 million record, and brings shophouse investment sales for the full year to S$467 million. It represents a 16.1 per cent increase from 2019 figures even as overall 2020 property investment sales declined 16.7 per cent on year, noted Colliers in a report.
Amendment note: An earlier version of this article stated that the built-up area was 1,200 square feet. The built-up area is in fact 2,100 square feet. The article above has been revised to reflect this.
---
Row of five freehold shophouses in Joo Chiat up for sale with S$21m asking price
MON, OCT 26, 2020 – 1:11 PM
FIONA LAM " fiolam@sph.com.sg # @FionaLamBT
The freehold residential site has a land area of about 8,969 sq ft and an existing total built-up area of 15,682 sq ft. PHOTO: ISABEL REDRUP AGENCY
A BLOCK of conservation shophouses in Joo Chiat has been put on the market for S$21 million via private treaty, exclusive marketing agent Isabel Redrup Agency told The Business Times (BT).
The freehold residential site, at 33, 35, 37, 39 and 41 Tembeling Road, has a land area of about 8,969 square feet (sq ft).
Its existing built-up area totals around 15,682 sq ft, but architects have estimated the
Its existing built-up area totals around 15,682 sq ft, but architects have estimated the possible built-up area could reach some 23,601 sq ft, said Susan Prior, managing director of Isabel Redrup.
There is also a back lane spanning about 3,229 sq ft, which may potentially be added to the site, according to Ms Prior.
"This is a rare chance to develop a residential block of five shophouses into a single entity, to possibly serve as a home for a multi-generational family, or as a co-living complex or serviced residences for short-term stays of at least three months," she added.
A co-living operator is a tenant at two of the units and has renovated them, Ms Prior told BT.
The row of shophouses is situated along a quiet street, with parking lots available at a public car park just across the road.
The Katong V mall and Katong Shopping Centre are about an eight-minute drive away.
Educational institutions nearby include Haig Girls' School, which is a three-minute walk away, and Tanjong Katong Girls' School and Tanjong Katong Secondary, which are a four-minute drive to the property.
"The vibrancy of the Joo Chiat, East Coast and Geylang amenities are within a 1-2 kilometre radius of the shophouses," said Ms Prior.
Numerous shophouses in Singapore have been launched for sale in recent weeks, as the market wakes up after a months-long lull. Other shophouses that have come to the market of late include assets in Tiong Bahru, Bugis and Telok Ayer.
---
Singapore's shophouse comeback continues; River Valley, Bugis properties for sale
WED, OCT 21, 2020 – 1:33 PM
FIONA LAM " fiolam@sph.com.sg # @FionaLamBT
(from left) 96 Amoy Street, 5 Tan Quee Lan Street and 13-14 Bali Lane have been put on the market. PHOTOS: PROPNEX REALTY
MORE shophouses in Singapore have been launched for sale or transacted this week as the market continues to heat up after a months-long lull from pandemic-related restrictions.
Freshly launched properties include shophouses in River Valley, Bugis and Telok Ayer.
A four-storey conservation shophouse at 14 Mohamed Sultan Road, near Fort Canning Park, was also sold on Tuesday at S$12.2 million, Isabel Redrup Agency told The Business Times (BT).
The boutique property firm said the buyer, a developer, plans to transform the shophouse into luxury apartments for medium-term stay.
The 999-year leasehold Mohamed Sultan shophouse spans 2,400 square feet (sq ft) in land area and 7,600 sq ft in floor area. It can be built up to 10 storeys at its rear, with a plot ratio of 3.8.
The previous owner, an individual, had rented out the six units for about 13 years, Isabel Redrup Agency's managing director Susan Prior told BT. The new owner will add multiple units.
RIVER VALLEY
Meanwhile, three adjoining freehold shophouses at 262, 264 and 266 River Valley Road have been offered for sale via an expression of interest (EOI) exercise, said sole marketing agent Edmund Tie.
They carry a guide price of S$2,500 per square foot (psf) based on the total built-up area of about 8,778 sq ft. That works out to an overall price tag in the region of S$21.9 million, although the three can also be purchased separately and have individual land titles.
Located on a corner plot and commanding an 18-metre wide frontage, the trio sits on a combined land area of 3,702 sq ft.
The three shophouses in District 9 are zoned "residential with commercial at first storey" with a plot ratio of 2.8 and an allowable building height of up to four storeys, under the Urban Redevelopment Authority's (URA) Master Plan 2019.
They are fully tenanted and hence suited for investors seeking immediate income, said Edmund Tie's executive director of investment advisory Tan Chun Ming.
The properties fall within a non-conservation area and thus are not subject to the constraints of conservation regulations, unlike many shophouses in prime districts.
The buyer can explore carrying out additional and alteration works to maximise the plot ratio, or consider redeveloping the properties into a mixed-use development or serviced apartments, subject to the authorities' approval, Mr Tan said.
The EOI exercise for the River Valley trio will close on Dec 2 at 3pm. TELOK AYER
In the Telok Ayer Conservation Area, the home of Swee Kee Eating House – also known as Ka-Soh – is now available for purchase by tender, said sole marketing agent PropNex Realty.
Occupied by the popular Cantonese-style fish soup restaurant for over two decades, the shophouse at 96 Amoy Street has a price tag starting from S$18 million, or about S$3,871 psf based on a total built-up area of 4,650 sq ft.
The 999-year leasehold property comprises two storeys with an attic, and spans a land size of 2,083 sq ft.
It is zoned full "commercial" under the URA Master Plan 2019 and approved for food and beverage (F&B) use. The Ka-Soh restaurant is likely to extend its tenancy in the next cycle, BT understands.
Foreigners are eligible to buy the property, and the sale will not incur additional buyer's stamp duty or seller's stamp duty.
PropNex noted that Amoy Street properties are "known to command a premium in rental due to its high human traffic", as the area is within walking distance to Telok Ayer MRT station and Raffles Place.
The shophouse's tender closes at 3pm on Oct 29.
BUGIS
Over in the Bugis district, a shophouse on Tan Quee Lan Street and two along Bali Lane are up for grabs, also marketed by PropNex.
A 999-year leasehold shophouse at 5 Tan Quee Lan Street is open for offers at an indicative price starting from S$15 million.
All three storeys have been approved for F&B use. The shophouse has a gross plot ratio of 4.2, with the potential for buyers to increase the floor area up to about 4,629 sq ft.
It will be sold with the existing tenancy, and is suitable for investment or for the buyer's own usage, PropNex said. South Korean makgeolli bar and restaurant Joo Bar occupies the space.
The 5 Tan Quee Lan Street property is located just across Bugis MRT interchange.
PropNex associate division director Loyalle Chin said that nearby, 534 North Bridge Road was recently sold at S$10 million while 32 Liang Seah Street changed hands at S$12.2 million.
A pair of shophouses at 13 and 14 Bali Lane has also been put on the market, with the owner seeking a closing price of S$9.5-9.8 million.
Both freehold shophouses have two storeys and are zoned "commercial". They occupy a 1,470 sq ft land plot and a floor area totalling 2,616 sq ft.
The pair is partially tenanted, and is suitable for investment or for the buyer's own use, said PropNex. The property was previously F&B approved, but at the moment houses hairdresser Eri Su Salon.
The two shophouses are within walking distance to the Bugis and Nicoll Highway MRT stations.
They are next to live entertainment and F&B venue Blu Jaz Cafe. The 999-year leasehold site where Blu Jaz Cafe sits was transacted last year at S$18.8 million, or about S$4,100 psf based on built-up area. Also in the vicinity is 18 Bali Lane, which was sold at S$5 million, Mr Chin said.
The tenders for 5 Tan Quee Lan Street and 13 and 14 Bali Lane will close at 3pm on Nov 26.
REVIVING MARKET
Buyers have been snapping up shophouses in Singapore's central region of late, on the back of pent-up demand following the 2.5-month period when property viewings were not allowed.
Ms Prior said shophouses are steeped in history and thus sought after by heritage lovers, developers and entrepreneurs looking to restore them and put their own mark on iconic properties.
Savills Singapore director of investment sales Yap Hui Yee told BT earlier that there has been more attention on such assets due to their rarity and strong preservation of capital value, amid a strong liquidity and low interest rate environment.
Analysts have also said that some investors prefer commercial shophouses to residential properties as the yields are higher for the former.
Recent transactions include 52 Amoy Street changing hands at S$8.5 million, 44-46 Amoy Street at close to S$21.3 million and 534 North Bridge Road at $S10 million. Word on the grapevine is that another shophouse along Amoy Street has also been purchased at close to S$30 million.
Mr Chin said shophouses are "the perfect alternative" to penthouses and Good Class Bungalows for foreign investors, as they can own coveted land in Singapore's prime districts without having to pay additional buyer's stamp duty.
---
Shophouse at 28 Ann Siang Road sold for S$52 million
Wong Siew Ying
PUBLISHED JUN 7, 2017, 8:38 PM SGT

SINGAPORE – Property investment firm 8M Real Estate is acquiring a shophouse 28, Ann Siang Road for $52 million.
The sale price works out to about $2166.7 per sq ft based on a total gross floor are of 24,000 sq ft, the firm told The Straits Times on Wednesday (June 7).
Spanning over 7,000 sq ft, the 999-year leasehold site is occupied by 20-room Th Club Hotel, which will continue to operate on the premises.
The deal, which is expected to be completed in July, was broked by Isabel Redrup Agency.
Responding to a Straits Times query, 8M Real Estate said the property has a permanent hotel licence and is a "great piece of real estate" given its prime locatio in the Tanjong Pagar area.
8M Real Estate owns and manages a portfolio of commercial properties within th conservation shophouse sector in Singapore.
The properties include 112-116, Amoy Street; 21, Tanjong Pagar Road; 18 and 22, Gemmill Lane; 31, Hong Kong Street; 37, Craig Road; and 71, Neil Road.
---
$36m Paid For Mohd Sultan Building
Source : The Straits Times, March 12, 2009
THE $35.8million sale of a Mohamed Sultan Road building has been completed, six months after the contract was first signed.
Ka$h completed the purchase of Le Mercier House even though the deal was struck in better economic times. — PHOTO COURTESY OF ISABEL REDRUP AGENCY
The acquisition by Ka$h International of Le Mercier House at 65 Mohamed Sultan Road is rare today given the depressed state of the property market, said Isabel Redrup Agency managing director Susan Ye. Her property agency brokered the deal.
Ka$h already owns the site next door, which houses the Hansgrohe showroom.
Although the deal was clinched with seller Le Mercier's Fine Furnishings during better economic times, Ka$h went through to completion and at the agreed price, added Mrs Ye.
Le Mercier has occupied the four-storey building for the past decade and is still running its high-end furniture store there.
It will rent the space from Ka$h – whose major shareholder is Mr Cheong Keng Hooi – but is looking for more upmarket premises.
Mrs Ye said the property is zoned for warehouse/residential use and can be converted into a 15-storey block of apartments.
The land size is 14,200 sq ft and the current built-up space is around 52,000 sq ft. However, the site is over-built.
'It has a plot ratio of 2.8, so rebuilding it will not allow for more than 39,000 sq ft of gross floor area in the future,' she said.
However, the location is desirable for those who like to live close to Orchard Road but outside the ERP zone, she said.
Many investors steered clear of the market for much of last year but are now starting to return, said Mrs Ye.
She added that they were a mixture of both individuals and companies.Posted by Richard Yeoat 11:31 PM
Isabel Shophouses feature Singapore Shophouses, commercial and residential. Conservation started around the 1980's but the Peranakans of Malay-Chinese influence, sometimes called China Houses - date from the 1850s, when colonial rule under the British saw the British East India company owning many of the houses which were later bought by influential local towkays. Today, art lovers and collectors preserve the antique facades and transform the interiors via architectural restorations commonly found around Orchard Rd in Cairnhill, Emerald Hill and Saunders; closer to Shenton Way and the financial district in Tanjong Pagar, Blair Road, Everton, Neil Rd, Spottiswoode Park, Telok Ayer, Club Street, Ann Siang Road and Amoy Street; in the East Coast at Evertitt, Geylang, Joo Chiat, Koon Seng, Tembeling; close to the river at Robertson, Kim Yam, Tong Watt, Mohamed Sultan, and River Valley Road.... The Houses of Isabel also include eclectic surburban bungalows, semi-ds and terraces as well as penthouse condos. Relish the best of Singapore with unique styles galore! Surf
www.isabelredrup.com
!

All contents are the copyright of Isabel Redrup Agency Pte Ltd and are not to be used without written permission. All rights reserved.
Agency Licence No: L 3009387E. CEA Registration No: RO 289821
THE ISABEL COUNTER: